Loyalty Discounts
Our loyalty discounts start once your account spending has reached or exceeded £500* within a 12 month trading period. Customers who spend more than £500* annually will start to receive a discount on NETT products (these are normally exempt from any discounts). Please see the table below for the full range of loyalty discounts, and remember, the more you spend the higher the discount.
*Before VAT and after discounts applied.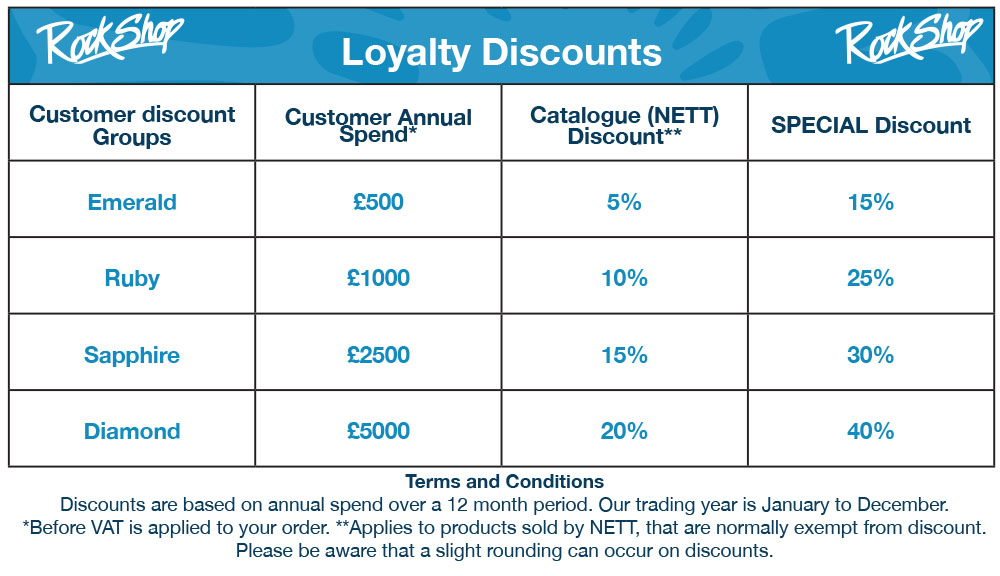 Free Worldwide Carriage (Online)
In order to qualify for free carriage, your order total must be a minimum of £100*.
Spend £100* for up to £25 discount on your shipping.
Spend £250* for up to £50 discount on your shipping.
Bulk purchases of salt lamps, salt T-lights, amethyst geodes and bulk boxes of amethyst, agate and rough rock are excluded from the free carriage offer.
Automatically applies at the checkout. *Before VAT and after discount

Travel & Accommodation Allowance (Visiting)
Customers who visit the showroom will receive 20p/mile up to £100 when spending £500* or more. The travel allowance credit will be applied in goods.
We also offer an accommodation allowance for customers requiring an overight stay. Proof of accommodation is required for the discount to be applied. Receive the equivalent cost of your accommodation in goods up to a maximum value of £50 when spending over £1000*.
*Price before VAT and after discount.