Brazilian Super Samba Event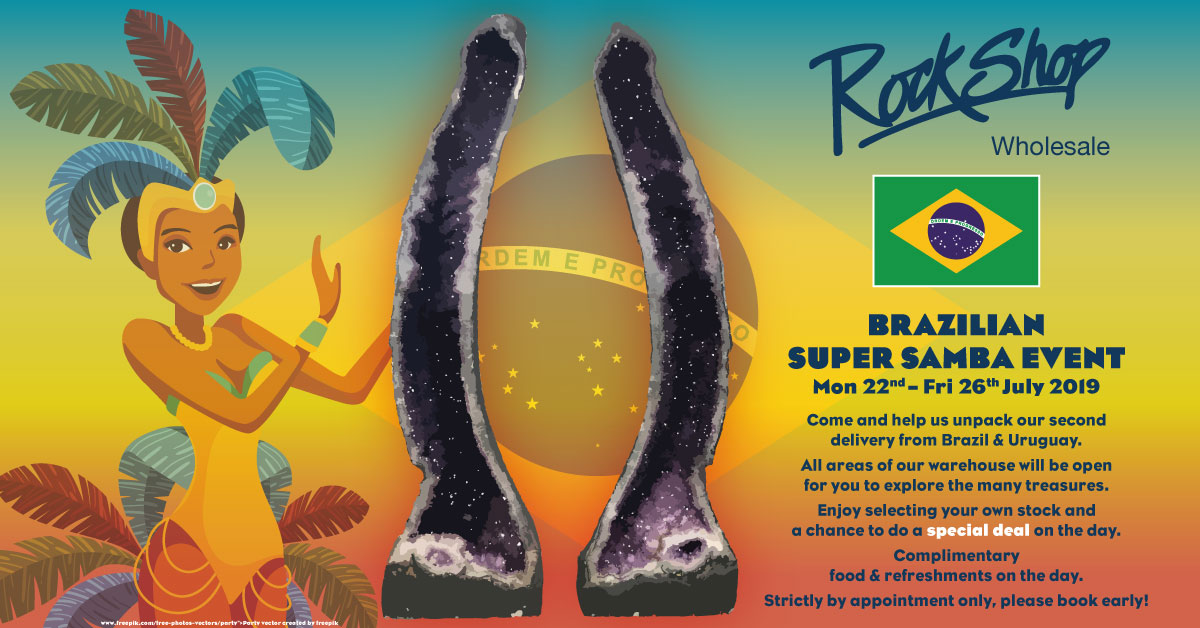 Monday 22nd - Friday 26th July 2019
Come and visit our fantastic new warehouse and help us unpack our second delivery from Johnny's Brazilian and Uruguayan buying trip earlier this year which contains the following treasures and more!!!
New Amethyst collections including Angel wings, polished lamps, geode spheres, extra quality points and Bowls plus commercial to high-grade churches from 4 inch to 5 foot high and a stunning hundred piece Citrine church collection.
New Uruguayan Amethyst collection in commercial to high grade including Rainbow and Red Amethyst plus eye-watering one-off display pieces.
New Brazilian jewellery collection including Uruguayan Amethyst love hearts, crystal charm collection, bangles, rings and gorgeous new crystal pendant collection.
Tumblestones in Citrine, Amethyst, Black Tourmaline, Black Moonstone, Bloodstone, Brown Moonstone, Carnelian, Golden Quartz, Iolite, Blue Kyanite, Labradorite, Moss Agate, Sunstone, Tree Agate, White Moonstone, Rhodochrosite.
Rough in Tourmaline, Fuchsite, White Amethyst, Kyanite, Apatite.
All areas of our warehouse will be open for you to explore. Enjoy selecting your own stock, complimentary food and refreshments and a chance to do a special deal on the day. Plus see our Saint Marie purchases which will have arrived just in time for the Summer holidays.
Strictly trade by appointment only please book early by calling 01484485599 or sales@rockshopwholesale.com
As always our travel & accommodation allowance is available to all customers